Got Science Books?
Science Books are definitely not for everyone. Some of us just don't care "why the sky is blue?" or "how does rainwater get in the clouds?". If you have a curious George or Georgia in your house, don't be so quick to get frustrated with all the questions. They're not trying to see if you qualify to be an adult- they're just hungry for hard core answers. Even though you may not have all the answers, don't panic. You can encourage them to read and find out for themselves.
Below is a list of my favorite Science Books for your little Einstein.


The Everything Kids' Science Experiments Book: Boil Ice, Float Water, Measure Gravity-Challenge the World Around You! by Tom Robinson is perfect for 9 - 12 year olds to experiment and literally learn about the world around them: most of the experiments use ingredients you already have at home. As an added bonus, it takes the guess work out of "what can I do for my Science Project?" Each section has a Science Project for kids to use at the next Science Fair.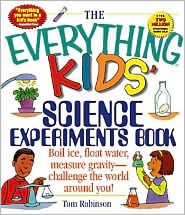 Science Experiments You Can Eat: Revised Edition by Vicki Cobb is a great book for kids 4 - 8 to get some of those pressing answers such as: what makes popcorn pop? or why do cakes rise?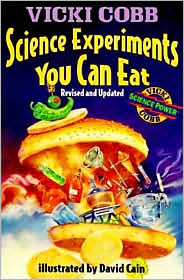 Not everyone loves Science, but everyone loves to eat. Since kids learn best when they can relate to the lessons, I give this book 5 stars. On top of learning cool lessons, they get to eat their homework!

The next 4 books are part of the Let's-Read-and-Find-Out Science series written by various authors. The series consists of hundreds of interesting titles on just about anything a child could ponder. I've listed the few that I'm familiar with.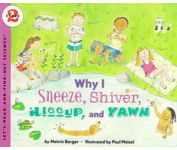 Why I Sneeze, Shiver, Hiccup, and Yawn by Melvin Berger is another cute book for 4 - 8 year olds who've ever wondered the answers to those questions.
This book gives very basic answers along with a few experiments to try.



Sleep Is for Everyone By Paul Showers is a creative way to explain to youngsters that everyone needs sleep, including animals. It also provides some basic, easy to understand information about sleep deprivation and what happens if you don't get enough sleep. What a genius way to get your child to go to bed!



Germs Make Me Sick!By Melvin Berger uncovers a enough information about viruses and bacteria that will make your kids think twice about not washing their hands or covering their mouths when they sneeze.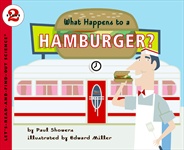 What Happens to a Hamburger? By Paul Showers cheerfully takes you on a journey through the human digestive system, down the stomach, and into the digestive system. And because it answers the question: "where does poop come from?", I suspect it would be a great asset to potty training as well.





Return from Science Books to Children'sBook-Worm